Wow, that was quite a storm this morning. But the plants in the garden seem to be happy & the plastic stayed on the hoophouse, so I'm happy too. Recently I transplanted swiss chard & kohlrabi, the rain really perked them up. I also got carrots, radishes & beets direct seeded, but they're not up yet. Hopefully the rain will speed their emergence, I can hardly wait.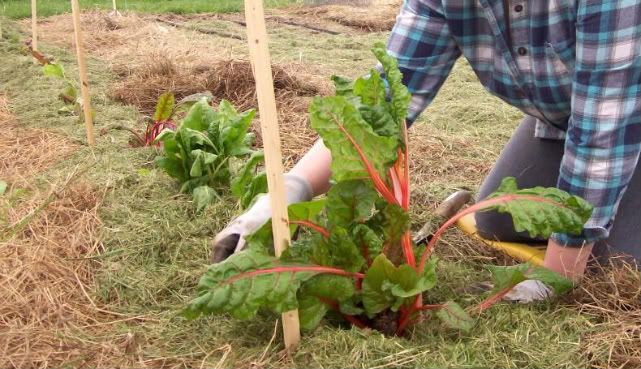 I love looking out & seeing green in the garden, & with the swiss chard in now, red & yellow as well.
The mulch is doing a good job keeping the weeds in check. It will save us so much time as the summer goes on.
Unfortunately, with the frost we got Monday night, all the tomatillos I had transplanted died. We had them all covered, but it didn't help. They were all black when we uncovered them. Oh well, lesson learned. It's a good thing I hadn't put the tomatoes in yet! Fortunately, I had checked the planting guide & realized it was just too early. Of course, that was after I had finished planting all the tomatillos. We definitely have spring fever & want to put in everything at once, but we're trying to practice patience.
That reminds me, I wonder if any of the potatoes are up? I think I'll go check.